WHO IS, MIKE STEWART PERFORMANCE_ ENGINEERING?
Scottish Engineering specialist Mike Stewart has reconditioned more carbs than he's had hot
dinners, but there's much more to this man and his company...
Words: Steve McCann Photos: SMCphotography
On arrival to the tiny village of Errol, located
in Perthshire, it appears to be like several
other mall Scottish towns, It has a narrow
High Street, lined with an airstrip that has
been abandoned for many years. But among
the rather grey derelict surroundings there is a
pleasing splash of colour as we arrive at
another well-established shop. This time it's
not a bakery, post office or a grocer, but one

of the most highly-regarded institutions in
Scotland (if you are a retro car enthusiast),
The weather-beaten sign on the wall bears
the name Mike Stewart Performance
Engineering and the colour comes from the
Alfa GIV, MGB, Lotus Elan and Mercedes 107
in the forecourt, This seemingly random mix
of classic cars all have one thing in common
though, Mike Stewart knows them inside out

and they all await his magic touch,

This was the day we visited Mike to find out
about the man and what he does to attract'
those who drive everything from concours
classics to full on historic race cars, "I'm not
into posing for cameras or anything," Mike
greeted us with, "but you can take photos as I
work - that's probably best," He was elbow
deep in a Lotus engine bay at the time and that suited us just fine; fly-on-the-wall-style,
capturing an artist at work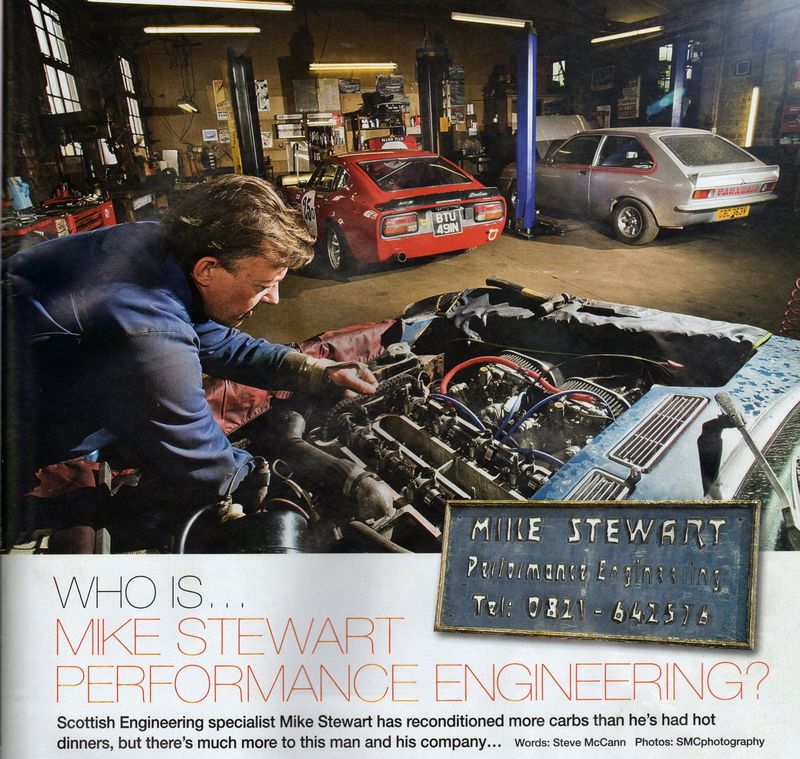 Mike offers a full range of services, from basic sevicing/repairs through to preparing and tuning any type of race or rally car.
After spending
some time on the Lotus, a customer
interrupted clutching a set of Dellortos,
declaring how useless they were. He knew
exactly where to come though as Mike is
known for his demon work on carbs. It took
only a few minutes to diagnose the problem
and pin-point exactly what parts needed
replacing before the relieved customer left
with a smile. Attention then switched to
another of the four fantastic cars in the
workshop; a stunning Datsun 240z. This car
belongs to Willie Robertson, the owner of
Crail Raceway (Scotland's only quarter-mile
drag strip) and he chose Mike not only to
build and maintain this beast, but also to
support Willie at every Classic Sports &
Saloons Championship race he participates in
(full feature coming soon). It's only a simple
plug change today on the massive six-cylinder
lump, but an ideal opportunity to drool over
the engine bay before Mike declared it was
break time and finally, the chance for a chat.
At first, the mood is slightly tense as Mike
realises his cigarette packet is empty and he
would much rather be heading to the shops
for supplies, but he carries on regardless. His
relentless enthusiasm for cars soon takes over
though as we discuss where it all began. "First
thing I ever tuned up was a lawn mower when
I was 14," he smirked, "then it was mopeds
for a while before I began tinkering with
cars." It was a natural progression for Mike as
he spent much of the '60s and '70s going to
hill climbs with his uncle Alex (Graham), who
drove to great success in his sport, including a
Scottish Hillclimb Championship title.
The words and pictures on Mike's homepage come from a feature done on Mike in Retro cars magazine in March 2010. Please see the link furter down the page to their website.